DESCRIPTION
The line of LBS portable recirculating water chillers covers cooling capacities from 1050 watts to 3000 watts.
The high capacity stainless steel storage tank holds 18 litres of fluid.
The flowrate and water pressure control system ensure optimum delivery and prevent potential damage.
The electronic controller, designed with the latest generation electronics featuring touch screen display, monitors the main system parameters in real time.
The operating data can be read via RS232 / USB for certifying the system operating conditions in relation to the analytical data measured.
Precise control and stabilisation of water temperature, pressure, tank water level and electrical faults can be viewed by the operator at all times.All LBS chillers come with remote unit on/off control and audible/visual alarm signals.
The Italian design and the use of high quality components on the LBS chiller ensure high productivity with very low noise, as tested in the analytical techniques shown here to the side.
MAIN FEATURES
Real time monitoring of water temperature
Constant control of water flow-rate and pressure
Steel stainless tank
Very low noise
Easily accessible water filter
Control of excess unit pressure
High pressure peripheral pump
Soundproofed compressor and pump
Wide water temperature operating range
Wide room temperature operating range
CFC (chlorofluorocarbon) free refrigerant
| Mod. CH10 | |
| --- | --- |
| Features | |
| Temperature range | +4°C/+40°C |
| Temperature uniformity | +/- 0,1°C |
| Temperature control | PID |
| Ambient operating temperature range | +5°C / +30°C |
| Cooling capacity | 1060watt |
| Noise level | 53db |
| Peripheral pump | |
| Head at zero flow | 9 BAR |
| Flow-rate at zero head | 18 L/MIN |
| Storage tank | |
| Net capacity | 18 litres |
| Dimensions and weights | |
| Width | 450mm |
| Depth | 670mm |
| Height | 650mm |
| Weight | 48 kg |
| Electrical specifications at 50 HZ | |
| Tolerance on rated voltage | +/- 10% |
| Maximum current | 6 A |
| Electrical specifications at 60 HZ | |
| Tolerance on rated voltage | +/- 10% |
| Maximum current | 12 A |
| Mod. CH30 | |
| --- | --- |
| Features | |
| Temperature range | +4°C/+40°C |
| Temperature uniformity | +/- 0,1°C |
| Temperature control | PID |
| Ambient operating temperature range | +5°C / +30°C |
| Cooling capacity | 3000watt |
| Noise level | 53db |
| Peripheral pump | |
| Head at zero flow | 9 BAR |
| Flow-rate at zero head | 18 L/MIN |
| Storage tank | |
| Net capacity | 18 litri |
| Dimensions and weights | |
| Width | 450mm |
| Depth | 670mm |
| Height | 650mm |
| Weight | 56kg |
| Electrical specifications at 50 HZ | |
| Tolerance on rated voltage | +/- 10% |
| Maximum current | 10 A |
| Electrical specifications at 60 HZ | |
| Tolerance on rated voltage | +/- 10% |
| Maximum current | 10 A |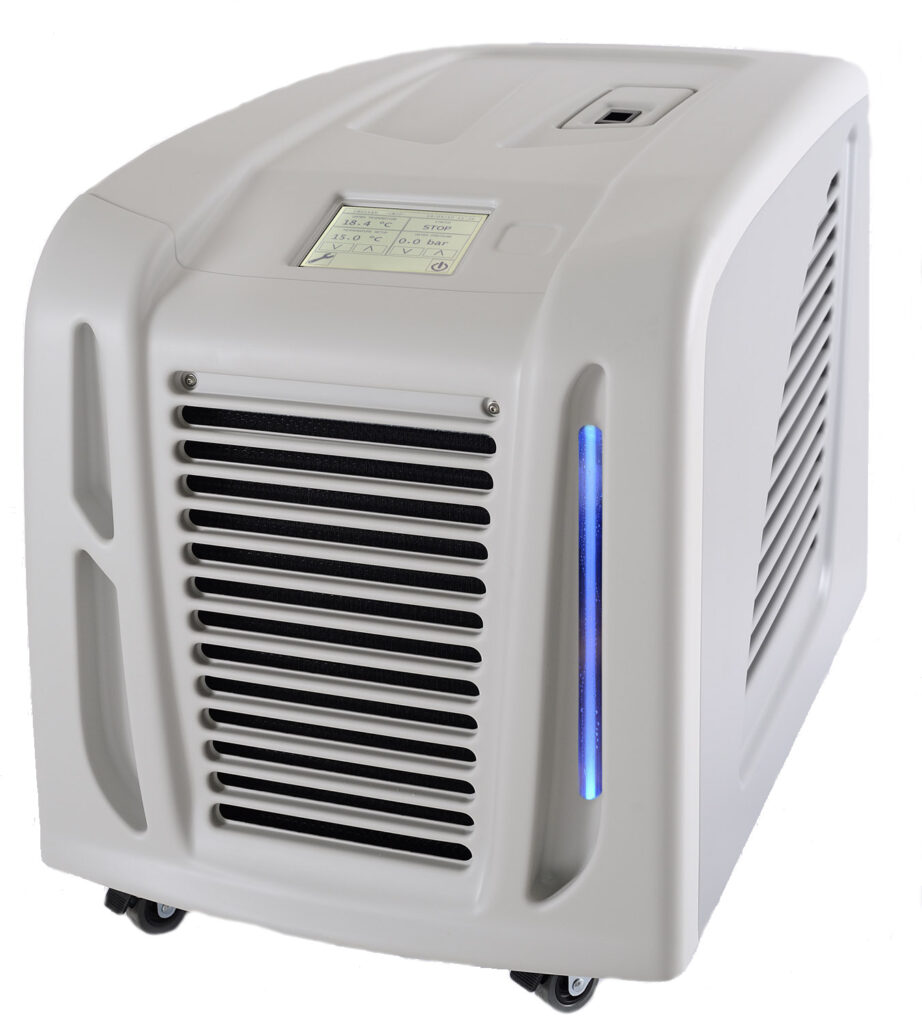 APPLICATIONS
Atomic absorption
Axial or radial view ICP
Distillation
XRF
XRD
Elettronic microscopy
Laser application
Diffusion vacum pumps
Rotary evaporators
Sputter deposition system
ICP-MS